Building the Colosseum
Oliver Matthews specialises in bespoke furniture for one simple reason: we believe there's no better way to build quality than to do it one piece at a time, according to the requirements of each customer we serve. To illustrate our commitment to bespoke craftsmanship, we'd like to introduce you to the Colosseum sofa. The Colosseum offers you that perfect combination of contemporary design and unmistakable craftsmanship. Built in our workshop, the Colosseum is designed around custom sizes, luxurious fabrics and finishes, and by-hand craftsmanship unparalleled in our industry.
Choose Your Specifications

Every new Colosseum sofa starts with specifications. As the customer, you decide what you want at every step of the process. Start by choosing your size, including both length and depth. The Colosseum can be as small as a single armchair or as large as a 4.5 seat sofa. You can choose depths ranging from 93 cm to 110 cm. This allows you to select a bespoke sofa that fits in whatever space you have allotted for it.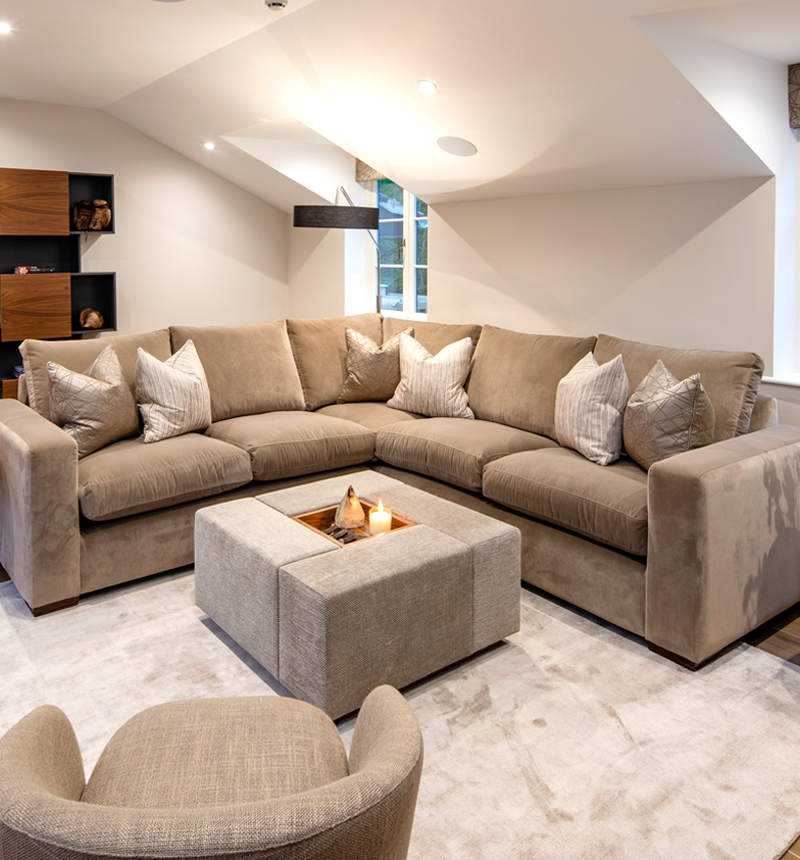 Next, choose your filling. From medium and firm foam products to natural feathers, we have nine different fillings to work with. Each one offers something slightly different in terms of firmness and support. And of course, you also get to choose your fabric. Oliver Matthews offers 5,000 designer fabrics along with hundreds of leather products. Our fabric choices include the finest fabrics from Romo, Clarke & Clarke, Designers Guild, and more. Finally, you get to choose your finishing touches. Do you prefer a wooden foot with a dark finish? We have just what you're looking for. If you would like casters instead, that's no problem either. We can finish your bespoke Colosseum in more than a dozen ways.
Handcrafting the Piece

Your Colosseum order is sent to our workshop where it is painstakingly built from scratch. Master carpenters measure and cut every piece of wood to exact specifications. Equally important is the selection of woods we use. Rest assured that every piece of wood is of the highest possible quality and has been purposely chosen for furniture building.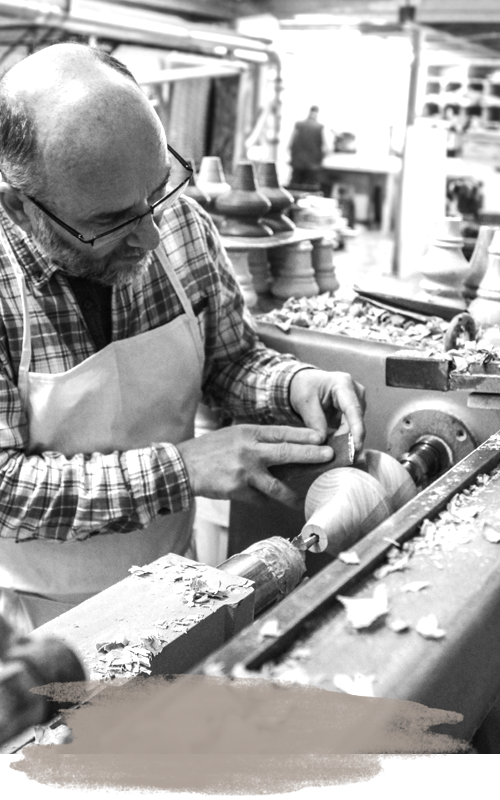 While the carpenters work on building the Colosseum frame, master upholsterers measure, cut, and sew together the fabric that will cover your piece. Each cut is made with extreme precision to guarantee a highly tailored look. Those pieces are sewn together with unparalleled craftsmanship that guarantees long life.
Treating the Wood

Before your sofa is assembled, the wood must be treated. How it is treated depends on your choices during the selection process. Some woods are painted, others are stained, and still others are finished with a product that brings out their natural beauty. The same time and effort is put into ensuring the best possible finish. We pay attention to each and every detail so that the finish looks perfect even on those pieces of wood you won't be able to see after assembly.
Putting It All Together

Constructing a Colosseum requires the combined efforts of several departments, from carpentry to upholstery and finishing. But eventually they must all come together to create the fine pieces Oliver Matthews is known for. This is where our extremely high level of craftsmanship all comes together.
If you were to visit our workshop, you wouldn't see automated equipment spitting out furniture pieces en masse. You would see a lot of individual work stations along with all of the hand tools our dedicated craftsmen use every day. You would see sawdust in the carpentry apartment and tiny pieces of fabric in upholstery.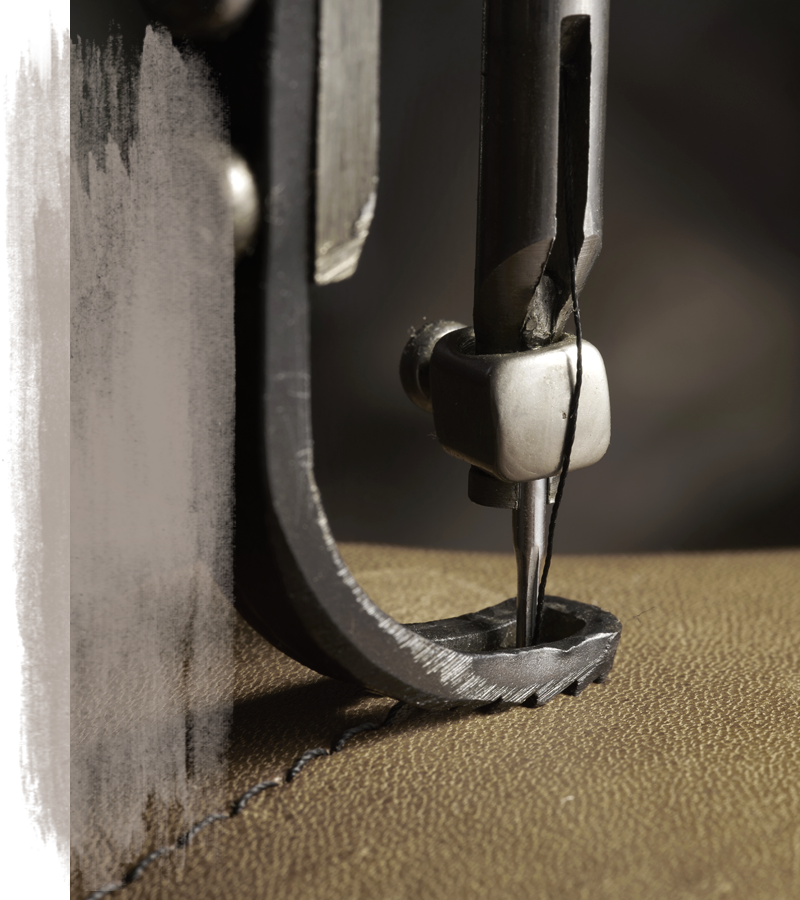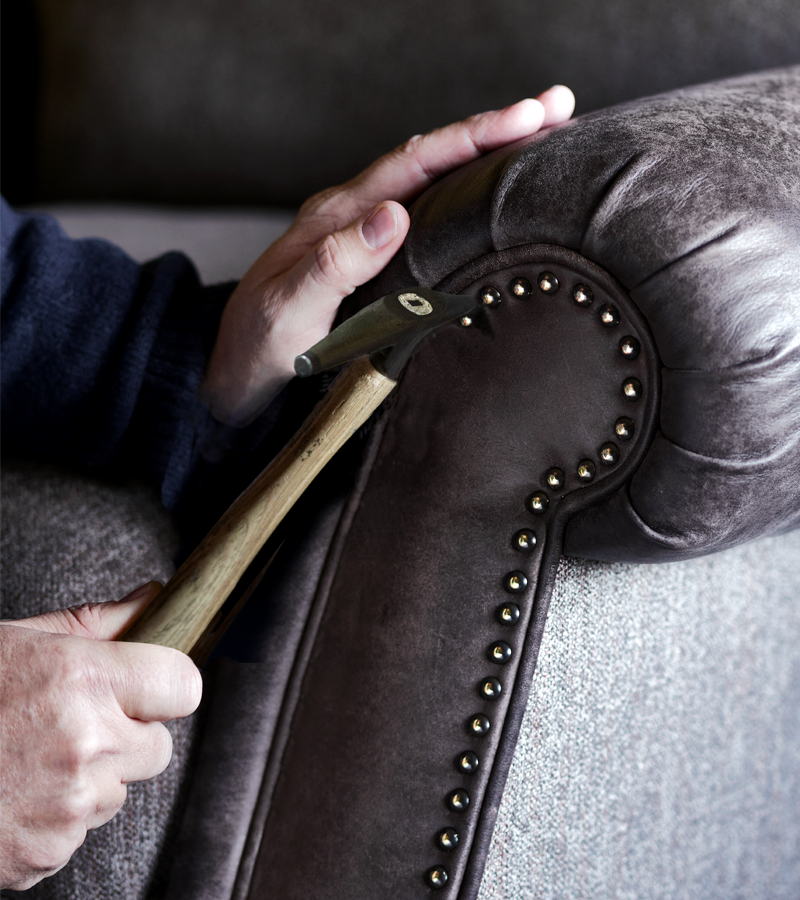 When they all come together, the results of their individual efforts create a piece that is far more than just a bespoke sofa. It is a true work of art you will cherish for a lifetime. That's what we aim to create with every piece of furniture that comes out of our shop.
Furniture You'll Be Proud to Own