Our Most Popular
Fabric Schemes
With an Oliver Matthews bespoke sofa, there is so much that you can tailor exactly to your tastes. Over the five steps of our sofa creation process, you can select a base style, a fabric combination, the size, the filling, and any finishing touches you wish. With over forty styles, and 5,000 designer fabrics and leather, the potential for unique combinations in these two areas alone is huge. Yet with all that choice, a bit of professional advice might well be welcome. And we feel that there is no better recommendation than what our customers most often go for. So if you're a bit daunted by the literally thousands of fabrics and leathers that can be paired with the various styles, a rundown of our most popular pairings might be just what you need. Here then are eight of our most popular fabric schemes, the combinations that time and again our customers opt for.
Colosseum Corner Sofa
in J. Brown Oleandro Silver.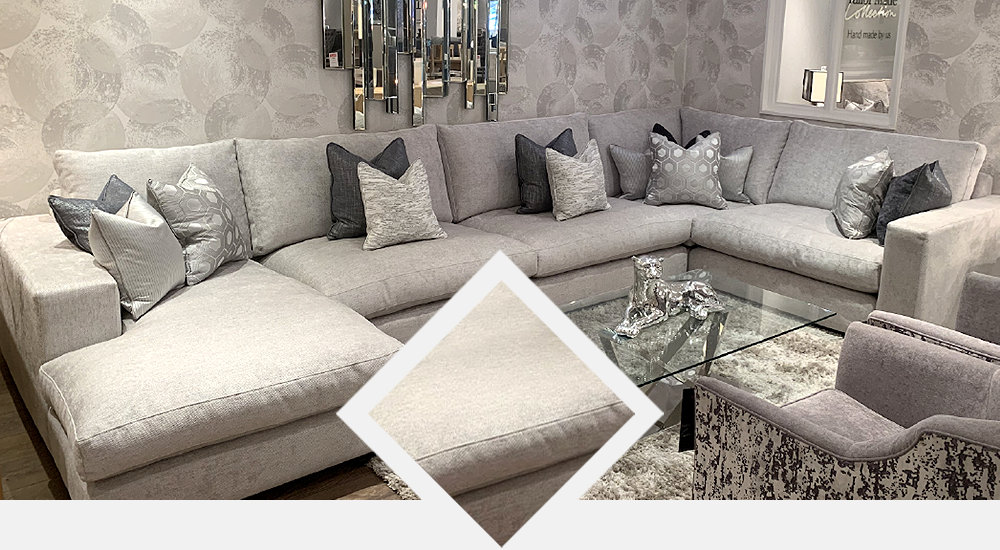 One of our most popular sofa styles, the Colosseum bespoke sofa is smart and refined, with a sleek and sophisticated finish. Boasting first rate handmade craftsmanship, the sofa is known for excelling as a room centrepiece that manages also to be restrained and elegant – especially as a corner sofa framing a central living space. For this reason, it is often paired with the kind of muted elegant fabrics that really bring out this aspect of the sofa. Our Colosseum Corner sofas are often purchased in Oleandro Silver, a muted greyish tone that is suffused with elegance without a slight suggestion of gaudiness. Blending well with darker coal-like blacks, many also add a few cushions in this colour, making for an excellent finishing touch to the sofa-fabric combination.
View our Colosseum Bespoke Sofa
Malone Corner Sofa in
Clarke & Clarke Allure Dove.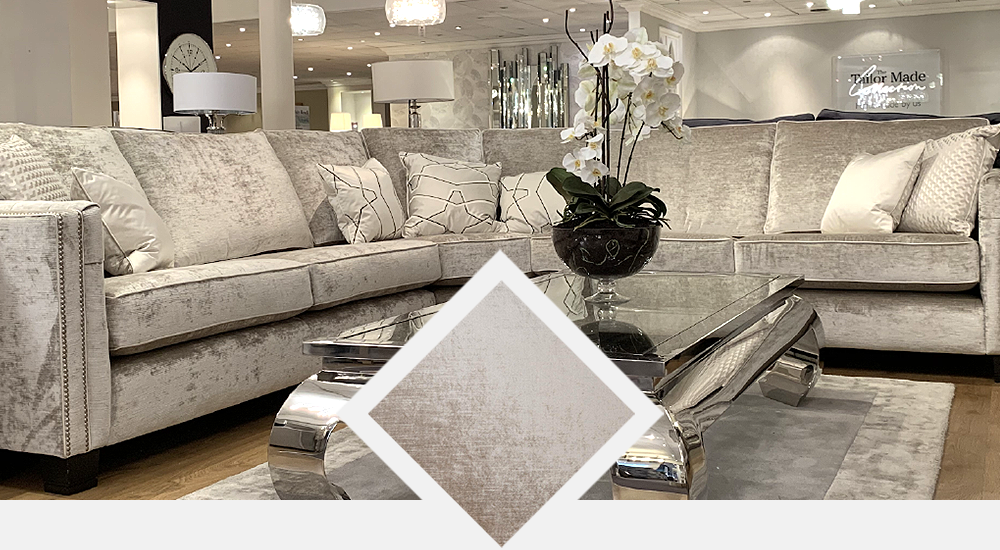 The elegant uniqueness of the Malone sofa style derives ultimately from the very slight suggestion of vintage style, which compliments nicely the elegant and restrained finish. The Malone sofa design is known for its combination of a sloping track and quilted arms, with the touch of vintage coming from the optional studs, which have proven to be an immensely popular choice. Also highly popular is pairing the Malone sofa with Clarke & Clarke Allure Dove, which has soft brightness to it and will complement a range of colour pallets in a room. Already a subtly textured style, the Malone sofa in Clarke & Clarke Allure Dove is complemented well with a leather or fabric textured finish. Simply put, this is a sofa that balances smoothness and texture with finesse.
View our Malone Sofa
Kensington
in Kobe Teatro 47.
With bold, sweeping lines and arcs, our Kensington sofa design is one made to stand out as a centrepiece in the room. For this very reason, its striking shape is very often offset by a muted and elegant fabric finish. Without too much in the way of ornamentation, Kobe Teatro 47 is ideal for reigning in the ostentation in order to bring out the best in the somewhat regal style. With a restrained yet subtly shimmering character, such a fabric pairing seems almost natural for a sofa like the Kensington.
View our Kensington Sofa
Malone
in Cristina Marrone Cambio Silver.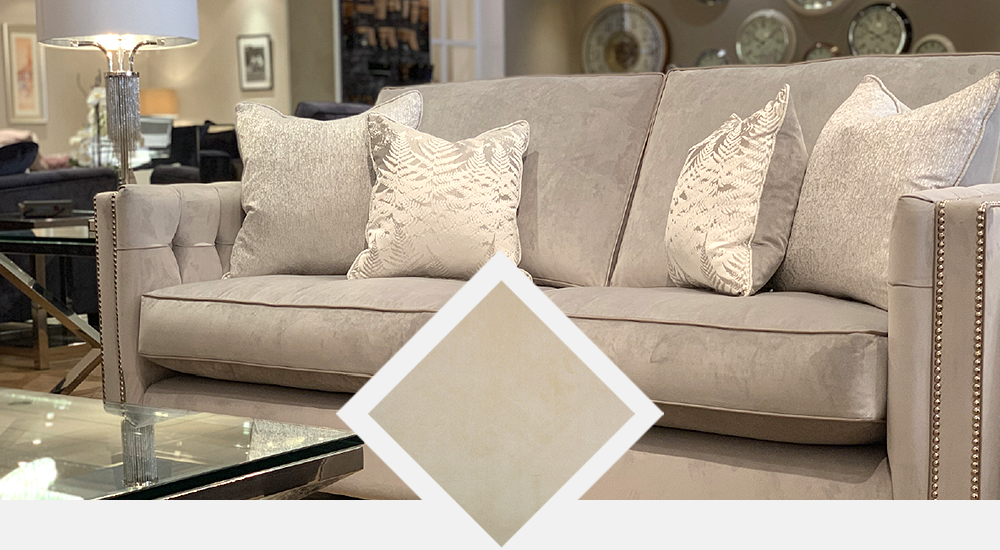 The Malone sofa is undoubtedly one of most popular sofa styles. Being endlessly customisable in size means that it is often bought as a smaller centrepiece sofa to a long corner sofa that elegantly frames the space. In the Cambio Silver fabric pairing, the Malone takes on a brighter and more contrasting tone. In this pairing, the sofa will complement well the kind of cushions and finishing touches that have a distinctive pattern to them. Again, that touch of vintage in the arm rests and the studs means that this sofa actually incorporates quite a lot of detail into its deceptively simple design.
View our Malone Sofa
Knightsbridge
in Warwick Lovely Coal.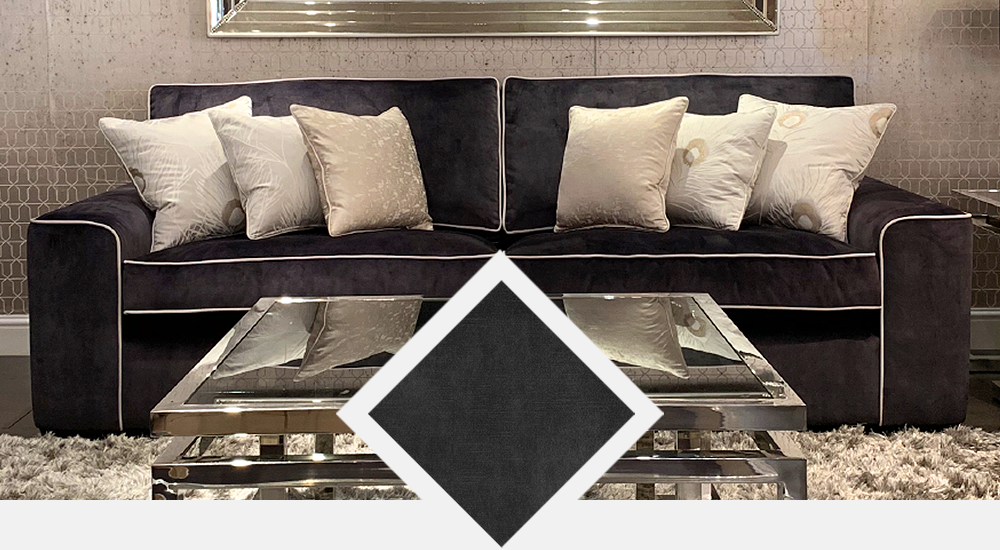 With our Knightsbridge sofa style, smoothness and streamlined elegance are undoubtedly the key stylistic elements. For this reason, it is very often purchased in the more muted fabric pairings and it works best with a more restrained approach to finishing touches and cushions (often, a couple of throw cushions in the same colour and fabric scheme are all that's needed to complete the look). That said, the slightly more striking Warwick Lovely Coal fabric is one of the most popular fabric pairing for this sofa design. The secret to its popularity is the principle of contrast with this rich dark grey.
View our Knightsbridge Sofa
Arc Curved
in Warwick Plush Indigo Velvet, Clarke & Clarke Passiflora and Warwick Plush Petal.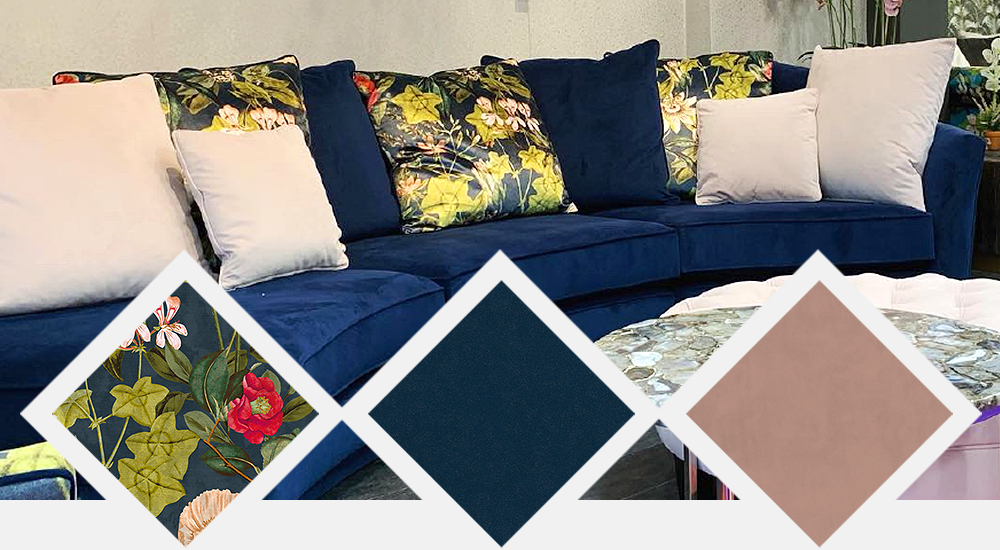 Our Arc Curved bespoke sofa style is one that positively calls out for a bit more ostentation in the fabric pairing. Ramping up the luxury with a velvet fabric finish, a deep indigo colour scheme is almost called for with this true centrepiece of a sofa. Due to its curved design, this is not a sofa that will have its back against the wall – as it were – and so elegance is key. Often purchased with a few cushions of a similarly colourful design, incorporating a second colour scheme is precisely what this sofa calls for. Accordingly, it is often paired with a plush petal colour scheme that boldly complements the indigo while deftly steering clear of gaudy overkill.
Clarke & Clarke Prince of Persia
in Marakesh Charcoal, Clarke & Clarke Soraya Charcoal and J. Brown Amalfi Meteorite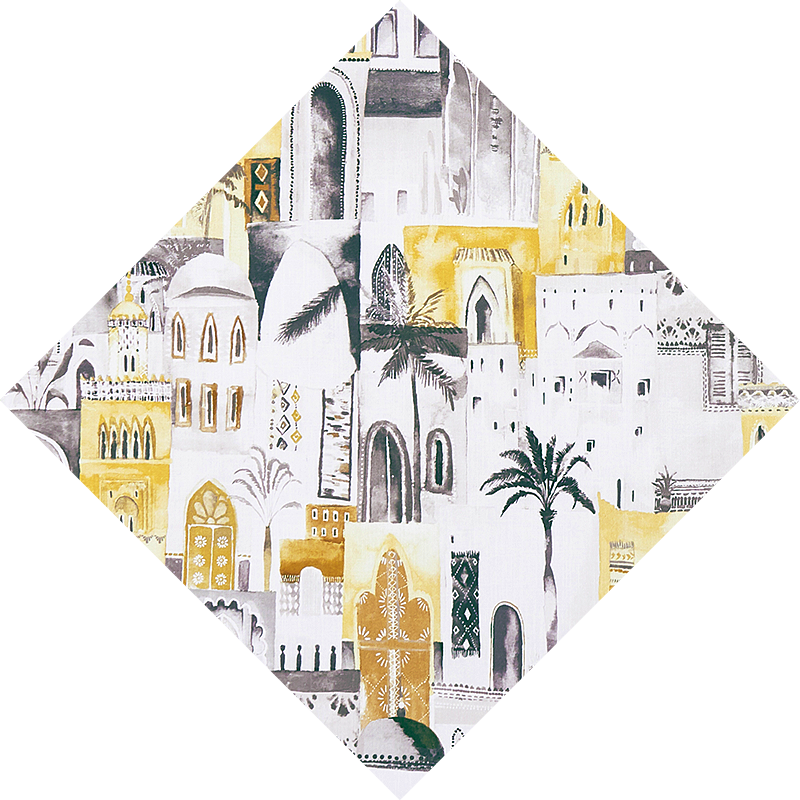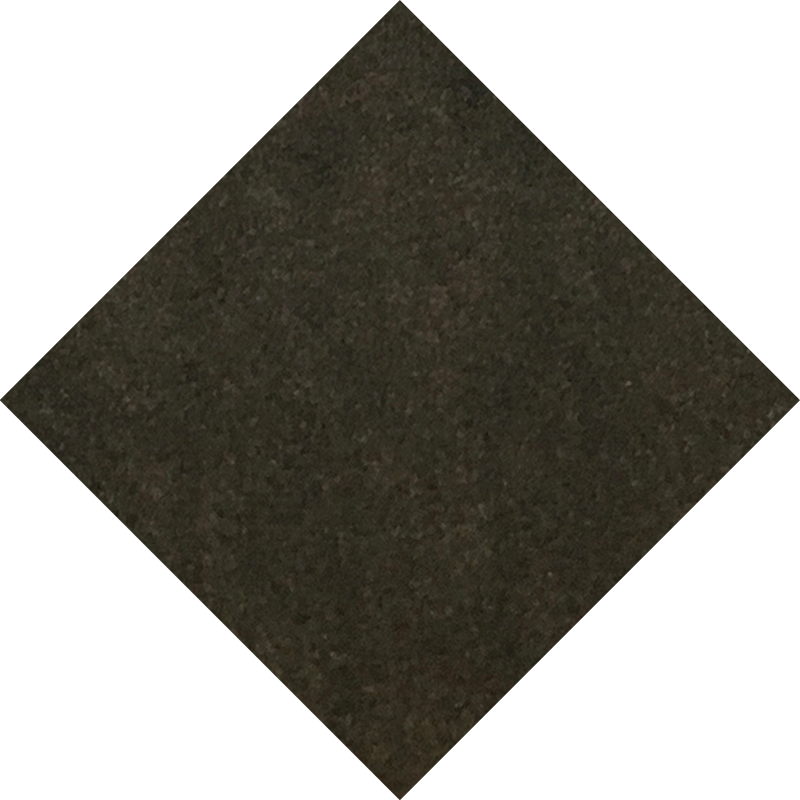 If you want a stylish and versatile contrast try pairing the enchanting Clarke & Clarke Prince of Persia collection in Charcoal and Ochre with Clarke & Clarke Soraya Charcoal and J. Brown Amalfi Meteorite. This eclectic marriage of superior textiles is a match made in heaven.
Clarke & Clarke Prince of Persia Majorelle Ivory
in J Brown Amalfi Cedar Green and Clarke & Clarke Menara Olive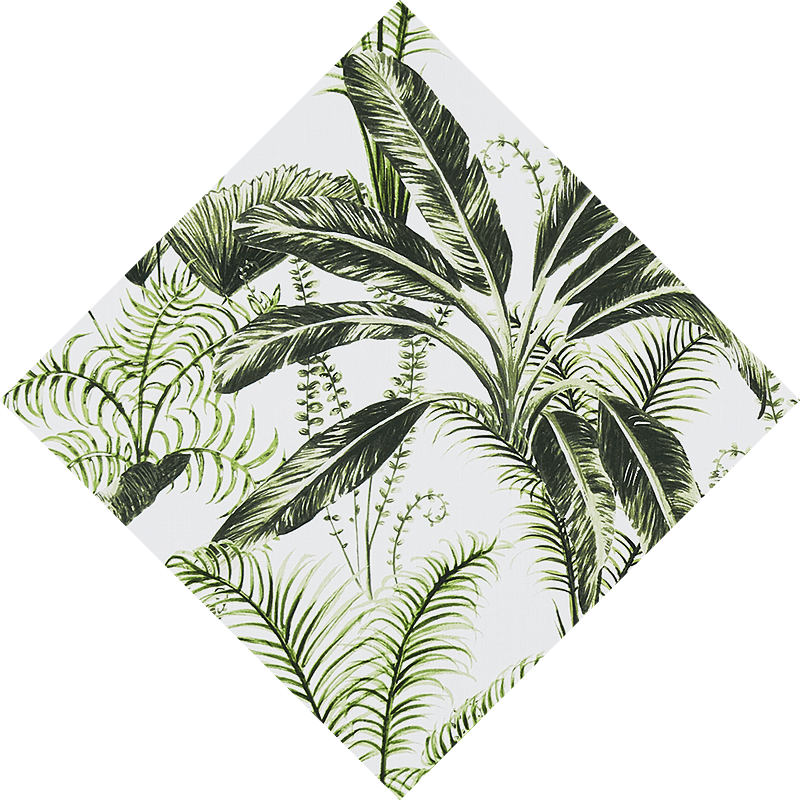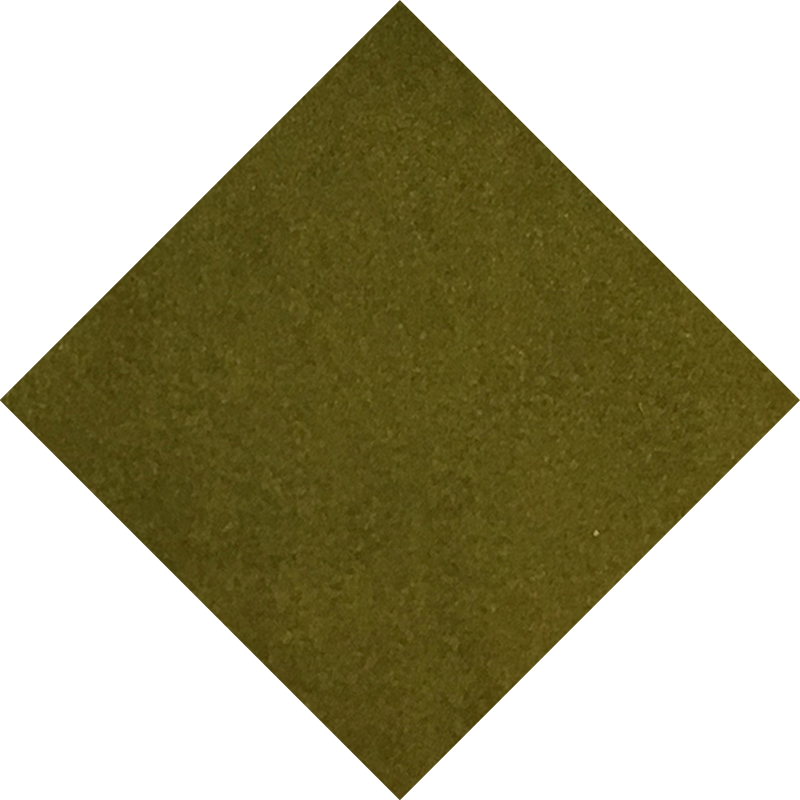 Reminiscent of the rich patterns and ostentation of oriental interior design, the Clarke & Clarke Prince of Persia collection is very often found paired with a plain and simple fabric to create the perfect balance. When combined with the Menara Olive and Amalfi Cedar Green textiles it creates such a skilful and effortless pairing, which is undoubtedly the secret to its popularity.
Create your perfect sofa today. Choose from over 40 styles or design your own luxury bespoke sofas. Call our friendly team to explore your options and create exactly what you have in mind.