How to Style a Grey Sofa in your Living Room
Designing the perfect living room starts with choosing your central pieces, and a bespoke grey sofa is the best starting point. As the neutral grey colour has quickly become one of the most popular shades in interior design, the flexibility in regard to your choice of decor and other furniture pieces is excellent. Whether you are renovating your home, or simply want to add a new touch to your living room, here are just a few essential aspects of living room design to help you style your grey sofa.

CHOOSE THE BEST SOFA FOR YOUR LIVING ROOM

The first step in the process is to measure your living room to find the perfect spot to place your sofa. By doing so, this will also be a good indicator into what size sofa will be best for your home. The next thing to consider for your sofa, is deciding on which shade of grey you would like, which can have a huge effect on the tone of your living room as a whole. If you are looking to achieve a calm and cosy feeling for your living room, opting for a lighter hue will help you create the perfect balance in your room. Perhaps you are looking for a more elegant or industrial style? Then opting for a darker shade will help you achieve the modern look.
‍
With the wide range of shades, textures and shapes available in bespoke sofas, there is a great touch to any living room that can be a perfect piece for your specific space. There are many things to consider when choosing your sofa pieces, especially thinking carefully about the space you have to work with. As bulkier pieces can make smaller rooms feel crowded, considering whether you would need a 2-seater or a 3-seater will be a good indicator to making a more spacious room. Take a look at our article on living room layout ideas too, for inspiration on how different room shapes can be laid out.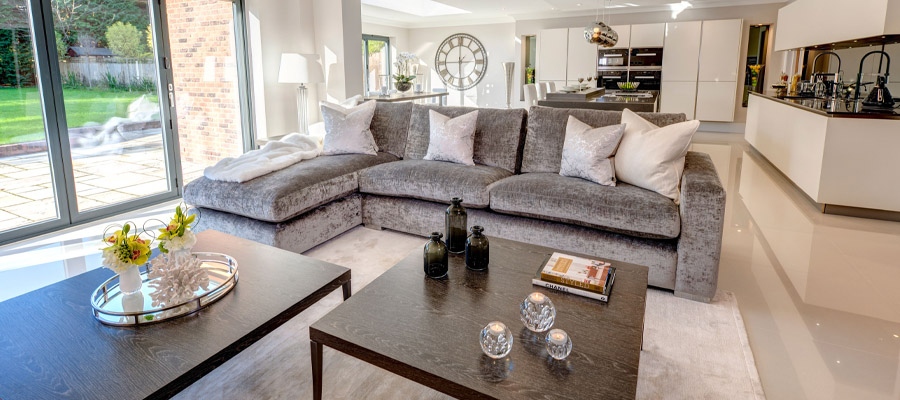 Colosseum Chaise Bespoke Sofa
As well as how much space is available for you to work with, considering other aspects like your lifestyle are other things that need to be considered when choosing your sofa. For those with young children or pets, choosing fabrics that are easier to clean is a great way to ensure your sofa stays intact, including materials like microfibre, leather, and ultrasuede. There are also many leg options to consider, and depending on the flooring of your living room, you need to think carefully about which one will be right for you. For example, arrow or block foot legs will work better than turned legs if you have carpet flooring or plan to lay a rug. Whereas the wheels on turned legs will glide better over tiled or wooden floors compared to carpet.

What to consider when choosing your flooring

Once you have been matched with the perfect grey sofa for your living room, styling starts with your floors. With grey being such a versatile colour to work with, your options are extremely varied and free for as many different styles and looks you are aiming to achieve. From the different textures and materials of your flooring, to the colours and added touches, picking the right flooring to complement your bespoke sofa is just one process that can really elevate your living room space.

The textures of your flooring: Carpet Vs tiles

Firstly, the options are endless when it comes to carpet and tiles. Opting for contrasting colours such as red or yellow, or sticking with complementary colours including turquoise and navy blue will help you to keep your options open when considering colour ways. To maintain a sense of balance in the space, if you go for contrasting colours then keeping the carpet textures simple will create a calmer and cleaner look. When it comes to tiles, we recommend choosing plain ones instead of patterned tiles so you don't overwhelm the senses. After all, the living room is somewhere to unwind and should be cosy and inviting.

Accent rugs to elevate your living room

To really make your grey sofa stand out, implementing rugs into your living room is the perfect touch. As the colours can be complementary or contrasting, the main thing to consider in the case of a rug is the placement. Typically, you want the rug to run the length of your sofa while leaving walkways between other large pieces of furniture. As well as the placement, the range of shapes are another aspect to consider. Most rugs are either rectangular or square, but some come in circular shapes too. For those with the intention of making a room look larger, rectangle-shaped rugs are ideal, with having the majority of your furniture on one side of your rug and leaving the other side free. Square rugs on the other hand, are perfect for defining an area in a bigger room.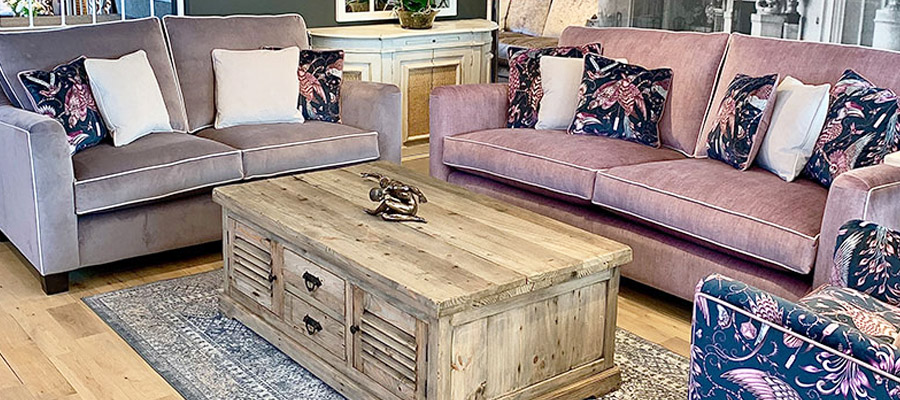 Renoir Bespoke Sofa
Ways you can style walls to compliment your grey sofa

As well as the flooring, the colour and texture of your walls are just as important when it comes to styling your living room to match your grey sofa. To accent your sofa to its fullest potential, painting the wall right behind the sofa in a contrasting colour is the perfect touch. To add depth to the room, darker colours such as shades of green and blue are ideal, whereas lighter colours such as yellow tones will help lighten up the area. If you don't want to paint it and would prefer something more intricate than a block colour, choosing a patterned wallpaper for behind the sofa is a great finish to a living room. Colorwash walls are perfect if you're trying to add some light to your living room, keeping your colour palette neutral and light to achieve the spacious look.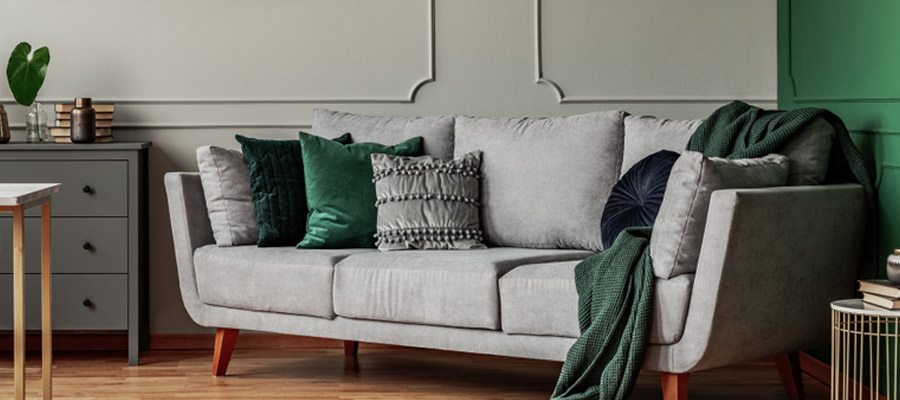 The key to lighting your living room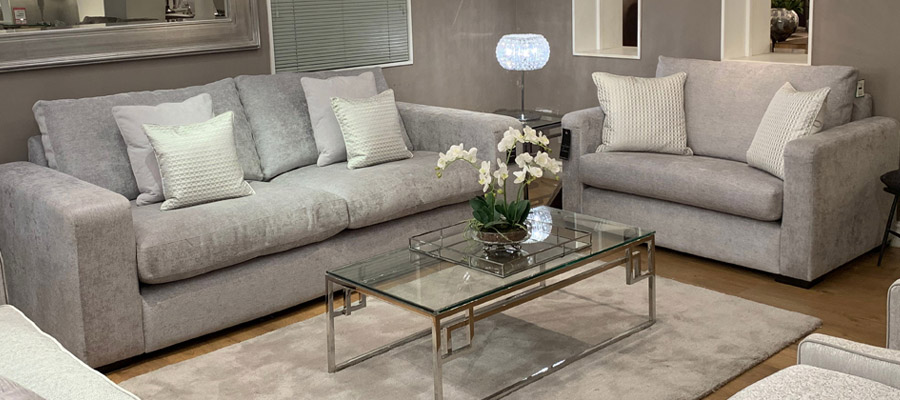 Proper lighting is essential for the ambience of any room. There are many different ways you can light a room, such as bringing in symmetry by placing matching lamps on each side of your grey sofa. For a more dramatic statement, you may want to bring in a chandelier, or even choose LED rails pointed at the accent walls or the sofa itself. Balance is vital when lighting your living room, so try choosing lamp shades that complement the texture of your sofa or even your rug or carpet, these can be placed on contemporary lamp tables that are a great addition to any living room. As well as this, floor lamps are another great way of lighting decorative pieces if your space is smaller.

Adding throws and cushions to create your individual style

You can easily add your own individual style to your grey sofa through the use of throws and cushions to match your personal styles. There are many different looks that you can achieve through these embellishments, for example if you are looking for an elegant style, then navy blue cushions and a beige throw are just two great choices for a sleek look. Whereas you can also create a hygge vibe by adding cushions and throws in bulkier fabrics and pastel tones. Opting for natural fabrics with simple patterns will help achieve a nardoc style for your living room, which is another that is very on trend. There are a variety of ways to add those extra finishes to your living room in order to create the right tone for you. Our helpful article on how to dress a corner sofa with cushions is a great insight into starting the process of styling up your grey sofa.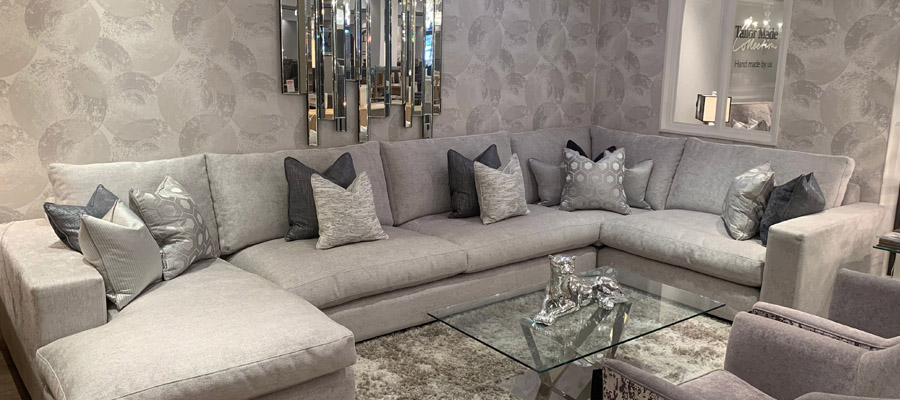 Colosseum Corner Bespoke Sofa
LET YOUR SOFA BE THE FOCAL POINT