How to Dress a Corner Sofa with Cushions
The right soft furnishings can make or break your interior décor, and cushions are no exception to that rule. So, whether you already have a corner sofa or you're thinking of getting a new one, our article will provide all the inspiration you need. From minimalist simplicity to maximalist colour and style, there are plenty of options out there to make your corner sofa perfectly blend into its surroundings.

Here are some of our top tips for dressing a corner sofa with cushions simply and effectively:

Play around with sizes
Size can be an excellent way to add a little dimension and shape to your corner sofa space. One of the most common options for multi-size cushions is to stack smaller cushions in front of larger ones. Not only does this create a plusher feel, but it can help to round out the corners found in the bend of many corner sofas. So if you want to make your corner sofa feel more impressive, opting for a selection of large and small cushions is an excellent place to start.

Explore our Bespoke Knightsbridge Corner Sofa
Stick to a colour theme or story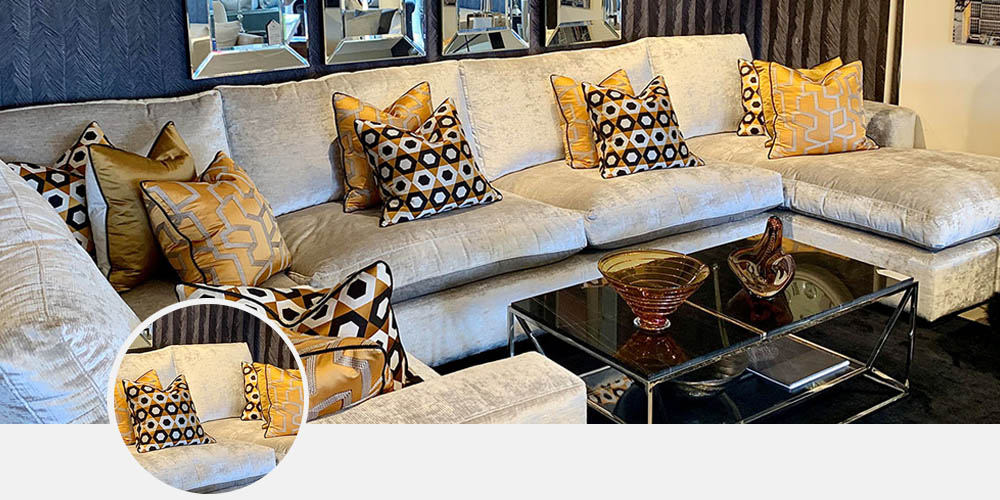 Colour themes or stories in interior décor are an excellent way to pull together a room and make everything feel on the same level. Cushions are no exception to that rule and can be a perfect complement to other soft furnishings in the room, like curtains or rugs. Using several shades of the same colour, or introducing a 3rd colour to the palette, can be an excellent way to add some dimensionality to your corner sofa without overshadowing an existing palette. For example, dark and light greys could be used together to stay on theme while keeping that feeling of togetherness. Alternatively, introducing a bold, yet complementary colour with cushions, can really help to inject another dimension into the room's decor.

Explore our Bespoke Colosseum Corner Sofa with Chaise
Consider comfort and day-to-day use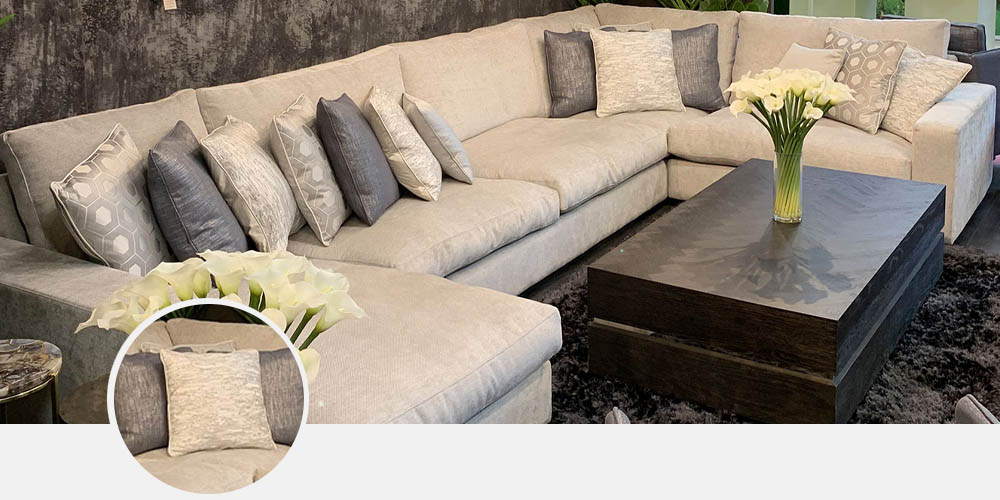 If you enjoy the comfort of cushions and their aesthetics, dressing your corner sofa with cushions that match your theme and are also comfortable is the ideal option for you. Choosing softer materials and comfortable fillings can help make your sofa as functional as it is appealing. If you love the lived-in look and you want to get the most use out of your cushions, considering fabrics and fillings can help make your corner sofa all the more enjoyable.
‍
At Oliver Matthews we offer a variety of cushion fillings to choose from for ultimate comfort.

Explore our Bespoke Colosseum Corner Sofa with Chaise
Add a feature pattern or design
A splash of colour or an eye-catching pattern stands out from the crowd in all the right ways. If you have a reasonably uniform colour palette, your cushions can be the perfect way to get out of your comfort zone and explore a world of vibrant patterns and unique designs. Cushions are easy to swap in and out, allowing you to transform your sofa space with each new pattern you bring into the mix. Opt for one or two statement cushions that draw the eye, as well as some more plain 'background' cushions to ensure you aren't overpowering your corner sofa with too much to look at.

Invest in a matching blanket and cushion combo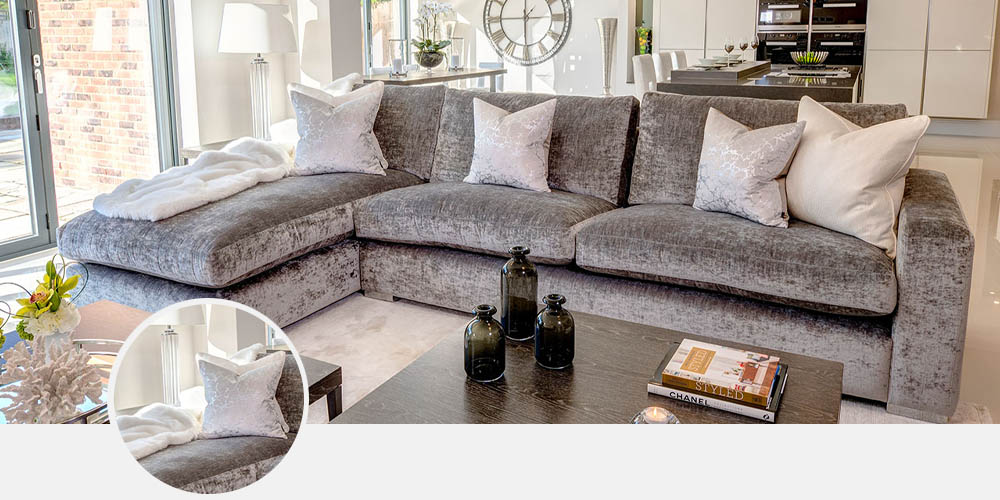 Blankets can be an excellent way to add additional comfort and flexibility to your corner sofa look and design. A coordinating blanket in similar fabrics and colours as your cushions can be an excellent way to dress a corner sofa with fewer cushions overall. For corner sofas with a chaise section, a blanket can be used to drape over the foot space where cushions would fall or would not easily stay. If you're keen to make your corner sofa look great from all angles, a blanket is a good place to start. Whether you choose to contrast your blanket or pick something that blends in is entirely down to your tastes.

Explore our Bespoke Colosseum Chaise sofa
Stack from the inside out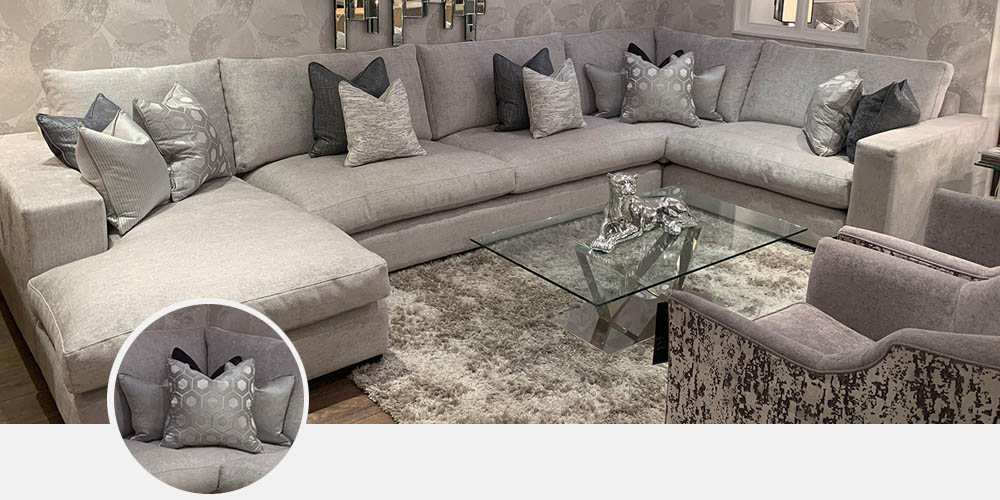 While your standard sofa may look its best with cushions stacked at either end, the L-shape of corner sofas means the middle bend of your sofa can look hollow and bare. Instead of working from the outside inwards, working from the centre out is the best way to ensure your corner sofa is well-dressed with cushions. The bend is the deepest part of the sofa. As such, you may want to add an extra layer of stacked cushions to reduce the divide between the inner and outer parts of the sofa for a finish that looks natural and feels far more comfortable for household members and guests alike.

Explore our Bespoke Colosseum Corner Sofa with Chaise
Cohesive shapes or eclectic tastes?